Sarah Reich has emerged as one of the new leaders in the Art Form of Tap Dance. At the young age of 15, this Los Angeles native was featured in Dance Spirit Magazine's article, "20 Hot Tappers Under 20" and was named one of the "25 To Watch" in the 2009 Dance Magazine article. Ever since, Sarah has been sought after to perform, choreograph, and teach in over 35 countries. Sarah has toured with Scott Bradlee's Postmodern Jukebox and with her own band, Tap Music Project, she premiered their full-length show at The Vancouver International Tap Dance Festival and the band has performed throughout Los Angeles at such venues as the Ford Amphitheatre, UCLA's JazzReggae Festival, The Edison, Blue Whale, and the LA County Holiday Celebration. Sarah was also seen on Season 11 of FOX's So You Think You Can Dance with Chloe Arnold's Syncopated Ladies and was a performer at Madison Square Garden for the opening of the NY Knicks 2013-2014 season. In addition to her vast international travels and countless television appearances, Sarah has had the honor to perform at prestigious venues such as The Hollywood Bowl, the Greek Theater with Mexican Pop-Star, Cristian Castro and the Kodak Theater with the great Herbie Hancock. For more info: www.sarahreich.com
Ayodele Casel began her professional training at NYU Tisch School of the Arts and is a graduate of The William Esper Studio. Hailed by Gregory Hines as "one of the top young tap dancers in the world," Ms. Casel has been commissioned by Harlem Stage, the Apollo Theater's Salon Series, and Lincoln Center. Ms. Casel co-choreographed and was featured in the PBS special The Rodgers & Hart Story. Other TV/Film: Third Watch, Law & Order, The Jamie Foxx Show, Bojangles, and Savion Glover's Nu York. She has performed with Gregory Hines, Jazz Tap Ensemble, American Tap Dance Orchestra, Savion Glover's company NYOTs, and in his work STePz. A Capezio Athlete, Ms. Casel has appeared on the cover of Dance Spirit, American Theatre, and The Village Voice. Recent performances include New York City Center's Fall For Dance Festival and the star-studded Broadway For Hillary fundraiser directed by Michael Mayer. Ayodele is on the faculty of A BroaderWay, and LA DanceMagic, and is a founding director of Original Tap House and Operation: Tap. www.ayodelecasel.com
BRIL BARRETT is a dedicated tap dancer, whose mission is to preserve and promote tap dance as a percussive art form, foster respect and admiration for the history and creators of tap, and continuously create opportunities for the art form and its practitioners. Bril is the founder of M.A.D.D. (Making A Difference Dancing) Rhythms, Co-founder of M.A.D.D. Rhythms Canada, director of The Chicago Tap Summit and founder of The M.A.D.D. Rhythms Tap Academy. His Performance opportunities include Riverdance, Tap Dance Kid, Imagine Tap, The St. Louis Tap Festival, The Calgary Tap Summit and many others. Bril has taught and/or performed in Prague, Canada, Germany, Finland, Turkey, Austria, Denmark, Sweden, Albania, Amsterdam, and across the U.S. He has started many outreach programs in Chicago's public schools, Park districts and even a performing arts high school in Gary, Indiana. Mr. Barrett has been running an After School Matters Youth Tap Program at The Better Boys Foundation in the North Lawndale community for the last 3 years and has just started one at Englewood High School in Englewood this year. The BBF program has been so successful that it has spawned a new addition to the M.A.D.D. Rhythms family. " M.A.D.D. Rhythms West: The BBF Crew" The M.A.D.D. Rhythms Jr. Squad is in its second year and quickly gaining a reputation for layin' some madd rhythms on the wood. Bril is determined to make a difference in his community by using tap and it's history to expose our youth to the art form that saved his life! Respect The Dance!
Phoenix Tap Fest founder, Jenefer Miller, was the proud 2015 recipient of the prestigious Oakland University MaTilDa Award for Alumni Lifetime Achievement in Dance. Jenefer is a native of Detroit and performs, teaches, and choreographs internationally. She earned a Bachelor of Arts in the Performing Arts from Oakland University and a MAEd from the University of Phoenix. While at OU, her choreography was faculty selected to be presented at Cornell University for the American College Dance Festival. She has appeared on stage with Tap 24.7, Scuff'd Up, Especially Tap Chicago, the Detroit Tap Festival, and Oakland Dance Theatre. She has studied with and performed in shows alongside legends such as Savion Glover, Ben Vereen, Jimmy Slyde, Dianne Walker, Barbara Duffy, Robert Reed, Debbie Allen, and Heather Cornell. Jenefer was honored to perform solo at the original Detroit Tap Festival honoring the legendary Nicholas Brothers and faculty credits include the Motor City Tap Fest, The St. Louis Tap Festival, Circle City Tap Fest, The Las Vegas Tap Festival, Nexus Dance Conventions, and Gregg Russell's Tap Into the Network. Recently, Jenefer founded the AZ Tap Club, the best place to hone your craft and share ideas. For more info: jmillproductions.com and aztapclub.com. #followmytappinfeet
Ryan recently made his Broadway debut in the swing fueled musical Bandstand under the direction of two-time Tony Award® winner Andy Blankenbuehler (Hamilton, In the Heights). He celebrated an incredible year highlighted by a performance on the Tony Awards, a best choreography win for Andy, and the personal gratification of a Chita Rivera Award Nomination for Outstanding Male Dancer. Previously, Ryan choreographed the critically acclaimed Southern Comfort at the Public Theater, the world premiere of Brave New World: The Musical at NC Stage Company, and Mary Poppins at NCT. He was honored to serve as assistant choreographer alongside Emmy winner Josh Bergasse on NBC's Smash. He was associate resident choreographer and dance captain for the national tour of Billy Elliot. Ryan was dance captain on the international tour of Fosse and studied the style with Gwen Verdon, Ann Reinking, and Ben Vereen. Along with his brother Evan, he appeared and choreographed on Fox's So You Think You can Dance. He has choreographed national commercials for Hershey's, White House Black Market, and Sun Drop soda and created movement for David Blaine's Real or Magic tour. Ryan continues to create new work with multi Drama Desk Award nominated Parallel Exit: Physical Comedy Theater. Their production of This Way, That Way prompted the NY Times to say Kasprzak, "can get laughs simply by breathing" and their comic tap musical Time Step was seen at the New Victory Theater, Joyce SoHo, Lincoln Center Institute and Cos Festival in Spain. Their show Exit Stage Left was presented at the Queens Theater, toured the US, and played variety theaters throughout Germany. His choreography has been featured at the NY Musical Festival in Academia Nuts (Best New Musical), and Best of Fest winners Cloned and Volleygirls. He is part of the resident faculty at The Performing Arts Project and a professor and alumnus of Marymount Manhattan College. Originally from Michigan, Ryan continues to spread his uniquely comedicand fun loving physical storytelling throughout the world. His energetic teaching style creates an environment where imagination and play support the creativity of the choreography. A firm believer in the science of comedy, Ryan continues to educate dancers on the art of the gag and ways to create bold, physical characters with simplicity, specificity and the economy of movement.
Megan Maltos began dancing at the age of four in California. She began dancing at Danswest, then owned by her mentor Frank Trent, at the age of 9 where she continued to train until she graduated from CDO in 2001. After graduating from the University of Arizona with her BA in Business management with a focus in dance in 2005, she and her mom Jill Maltos took over Danswest from Frank upon his retirement. While at the U of A, Megan had the privilege of studying Modern, Jazz, Ballet, and Tap with Amy Ernst, Michael Williams, Sam Watson, David Berkey, Nina Janik, and Susan Quinn and was also selected to perform at Gus Giordano's Jazz Dance World Congress in Buffalo, NY. In addition to theater dance, Megan has worked in music video, TV, and film. In recent years, her love of tap has grown into more of an obsession; spending more time in her tap shoes than regular footwear! Her award winning tap choreography has been performed internationally; at regional and national dance competitions, National Tap Dance Day showcases, and other community dance events. She has been a proud member of the all-tap company; Tap 24.7 directed by Suzy Guarino and Jenefer Miller since 2010 where their unique style is featured in tap dance festivals all over the country. While still pursuing a professional dance career outside of Danswest, the studio is where her heart is. Her love of teaching is visible whether she is teaching a preschool dancer or an advanced class. There is no place she would rather be than in her shoes with her students.
Ray Hesselink is a Director, Choreographer and Comedian living and working in New York City. Ray has presented choreography at various festivals and venues around NYC. Ray specializes in creating character driven choreography and excels at comedic storytelling through dance. Ray loves to make people laugh! As a dance instructor, Ray has had the privilege to help train the children who performed in Broadway's Billy Elliot: The Musical. Ray Hesselink is a Director/Choreographer and Comedian living and working in New York City. Ray has had the privilege to help train the children performing in Broadway's Billy Elliot: The Musical. As a dancer, Ray created the role of Mr. Happy in Derick Grant's Imagine Tap! As a performer, Ray's favorite performances include originating the role of "Bud" in Batboy: The Musical. Ray has also been featured as a principal dancer in Nayikas, a classical Indian Dance Company. Ray has choreographed for many venues including New York Musical Theater Festival, The Duke Theater, Symphony Space, Yale Drama School and recently as a Contributing Choreographer to "Heatwave: The Jack Cole Story" and co-writer/choreographer to "I Heart Bob" at Joyce SoHo which won a rave review from the NY Times. Ray is also on Faculty at Juilliard, Broadway Dance Center and STEPS on Broadway in NYC. He also coaches actors privately. Ray holds a B.A. from the School of Theater at UCLA. Check out: www.RayHesselink.com.
Denise Caston was a Radio City Rockette for 10 years and toured nationally with the Tony Award winning musical, Crazy For You. Denise has also had the honor of performing the choreography of Savion Glover at a showcase in New York City. She performed on tour in Australia, dancing all over the continent in Elvis to the Max. Her choreography has been seen in many productions in which she performed, including shows at Caesars Windsor in Ontario, Canada. Credits also include film, television, commercials, and industrials. Teaching credits include classes at Broadway Dance Center (NYC) and Steps on Broadway (NYC), Tradition In Tap (NYC), Gregg Russell's Tap Into the Network (Cleveland, OH), and the St. Louis Tap Festival, as well as The Rockette Experience© at Radio City Music Hall. In 2011, Denise was invited to speak at the TEDx Detroit Conference about her contributions to the cultural landscape in Detroit, including founding and producing Motor City Tap Fest and founding the Detroit Tap Repertory. Recently, Denise was awarded a prestigious MaTilDa Award from her alma mater, Oakland University, for Alumni Achievement in Dance. She also became certified by the American Ballet Theatre's ABT® National Teacher Training Curriculum for Primary-Level 3.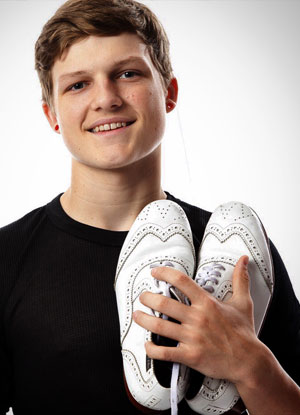 Brendan Kellam, an up and coming tap phenom from Tucson, Arizona. He most recently performed at the Kennedy Center in New York City as the featured tap dancer with the Tucson Jazz Institute in a tribute to Bill Robinson. Brendan is a well-rounded dancer having trained in jazz, ballet, modern, hip-hop, and ballroom, but his heart lies with tap. He is an energetic tap dance performer and choreographer with a fresh modern style who has traveled all over the U.S. to study with many masters including Jason Samuels Smith, Gregg Russell, Logan Miller, Lady Di' Walker, Bril Barrett, and the late Professor Robert L. Reed. Brendan has been seen performing with Danswest Dance Company since 2002 under the direction of Megan Maltos, as well as the Phoenix-based tap company, Tap 24.7. At age 12, Brendan began his journey as a choreographer. His work has been selected to be performed in the Big Apple Tap Festival in New York City and the Motor City Tap Festival in Detroit. He has choreographed for studios in various parts of the country producing top awards and accolades. Brendan is a member of Artifact Dance Project, a modern dance company based in Tucson.
Born and raised in Gary, In, Victoria Jones developed skills in all styles of dance but was the first student from Gary performing in Bril Barrett's hoofers tap dance crew M.A.D.D. Rhythms in Chicago from 2005 until present. M.A.D.D. Rhythms is known in the tap community for their significant rhythmic sound performing in major dance shows throughout Chicago like Dance Chicago, Juba, the Chicago Human Rhythm Project with Lane Alexander, traveling and performing nationally at several tap festivals within the major cities across the map including the St. Louis Tap Fest and more. Under the inspiration of the tap movement, Victoria relocated to Las Vegas in determination to progress and pursue her dance career. Her tap career with M.A.D.D. Rhythms has led her to start the Las Vegas division, M.A.D.D. Rhythms Las Vegas and work and intern every year with the LA Tap Fest since 2012 owned my Debbie Allen and directed by Jason Samuels Smith and Chloe Arnold.Inspired from many greats including the late Dr. Bunny Briggs, and Dr. Prince Spencer, she joined forces and founded the Las Vegas Tap Fest in 2013, a nonprofit 501©3, designed to honor the history of tap dance in Las Vegas and keep this art form alive. Victoria actively teaches Tap and Hip Hop, at the Las Vegas Tap Academy, at several local dance studios, and schools in the Clark County Schools. She continues to spread her knowledge and love for dance and the discipline throughout Las Vegas and aspires to travel the world with her gift!
Suzy Guarino-Hall has been busy in the dance and entertainment business for more than 20 years. Originally from Chicago, she now resides in Phoenix AZ. She has appeared in print work, industrial films, and numerous commercials for companies such as Mc Donald's, Osco Drugs, Six Flags, Cox Communications, American Express and Westcor Shopping Centers. Suzy was also a spokesperson for several companies such as Sedona Patio and Leather, and Trucks Only. Currently, she is doing spots for Home TV and Appliance, Utah Honda, Carson Dodge, and Tonkin Gresham Honda. She has also done extensive work for television both as talent and as a choreographer. Her choreography can be seen in commercials for the WB for such TV shows as "Friends" and "The Simpson's." Suzy choreographed the opening "dance-off" for the finale of KTVK's "Gimme the Mike." On camera, she was part of the WB Six Pak where she was a spokesperson for the television station and has done TV commercials and live television remotes, which included co-hosting several episodes of "Uncovered." In the dance field, Suzy is a master tap teacher and choreographer. Suzy started her dance training in Chicago and studied at Gus Giordano and Lou Conte. She has trained with some of the best master tap teachers in the country including Jason Samuels Smith, Mark Goodman, Gregg Russell, Dianne Walker, Mark Mendonca and many others. Suzy has taught tap on the convention circuit for Dance Educator's of America, Focus Dance Conventions, Star Systems, Mark Goodman's Totally Tap, Dance RAW and N-House Productions. She is also a regional and national dance competition adjudicator for Spotlight Dance Cup, In10sity Dance and Star Systems. She has done choreography for several benefit shows for theJuvenile Diabetes, Caitlin Robb Foundation and Mercedes Benz. She's the owner of a tap production company called Rhythm Essence Productions. Her tap group, Tap 24.7, has done numerous guest performances for different events and concerts, as well as several tap festivals. She enjoys teaching around the country as a master tap teacher to many studios, and inspiring tap students of all ages. Her choreography is rhythmic, energetic and cutting edge while mixing in modern music. She excels as a teacher, understanding many levels and breaking down steps and technique that is easy to understand. Suzy teaches in Phoenix at Bender Performing Arts and does tap choreography for their company, Dance Motion.
Kelly began dancing at the age of 3. She trained at Bender Performing Arts in Phoenix, AZ for 15 years and was a member of the performing company Dance Motion for eight years. One of her highlights growing up was getting the opportunity to study at Tap Kids in New York. She was an original member and principal dancer in the tap company Tap 24.7, directed by Suzy Guarino, where she performed all around Arizona and other parts of the country. Kelly was also a cast member of the show Scuff'd Up by former Tap Dog Mike Wittmers where she got to perform along side him as well as other amazing tap dancers such as Bob Carroll, Nico Rubio, Jeremy Arnold, Jenefer Miller, Suzy Guarino, and Caylee Cottrell. In 2013 Kelly graduated from Arizona State University with a BS in mathematics. During her time there she was a member of the Hip Hop Coalition, the hip hop team at ASU, and vice president of the tap club led by Benjamin Hosig. After college Kelly moved to Los Angeles to continue studying dance, specifically tap. Since being here she has worked with Sarah Reich and Chloe Arnold, where she has performed with Sarah Reich's Tap Music Project and understudied for Chloe Arnold's Syncopated Ladies. She has also trained with Melinda Sullivan and Lee Howard. As a member of Reverb Tap Company directed by Leah Silva, you can see her in their latest videos including Forever, the winner of the first Operation Tap concept video contest. You can also see her as a tap dancer in Rachelle Royale's music video for her song 'Tap Dat'. Currently, you can find Kelly groovin' with Jason Janas' tap company Co.MITT based in Los Angeles.